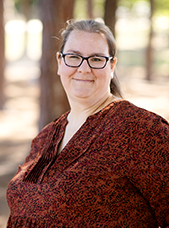 Faith Silvertooth
Grammar Curriculum Lead/ 3rd Grade Instructor
Phone: 903-663-4151
After graduating from UT Tyler in 2009 with a B.S. in Interdisciplinary Studies (Elementary Education), I found my perfect teaching fit at Christian Heritage Classical School. I began teaching here in 2010 and have spent the last 11+ years falling in love with the classical, Christian model of teaching.
I taught 1st grade and 4K before finding my perfect teaching spot in 3rd grade, where I have spent the last 7 years. As an avid reader and lover of classic children's literature, I have been over the moon to teach some of my most favorite books each year -- Charlotte's Web, Charlie and the Chocolate Factory, and The Lion, the Witch, and the Wardrobe.
When not at school, I enjoy reading, going to concerts and movies, and rooting for the Texas Rangers baseball team. You can often find me around town, especially downtown Longview, hanging out with my small group, enjoying coffee, ice cream, and more! I also enjoy attending classical conferences every summer, as I learn how to become the best classical, Christian teacher I can be.
Christian Heritage has been and continues to be a gift and blessing in my life, and I am thankful for the 12 years (and more) that God has given me here.