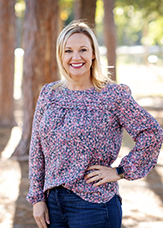 Suzanne Scott
2nd Grade Instructor
Suzanne has been married to her high school sweetheart, Aaron, for 17 years. Aaron's side gig is coaching soccer at CHS and encouraging a passion for being part of a team. They have 3 children: Slade (8th grade), Aspyn (6th grade), and Saige (K).
Suzanne grew up in Longview and graduated as a Pine Tree Pirate. She attended The University of Texas at Tyler and graduated with a teaching degree. After returning to Pine Tree to teach 6th grade, she took the best 13 years of her life to stay home with her kiddos. Suzanne returned to the classroom when her youngest entered Kindergarten. Suzanne enjoys being part of the village that grows children's love of Christ and learning. She loves that CHS is an extension of their home and feels it's a blessing to serve the families of Christian Heritage.
Suzanne's family has attended New Beginnings for 13 years, serving in a variety of roles. She enjoys watching her kids play sports, Crossfit, travel, shopping, and hanging out with friends and family.