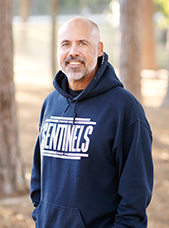 Griff Mauldin
Athletic Director
Coach Mauldin graduated from East Texas Baptist University with a Bachelors of Science in Education. He has 16 years of coaching experience and has taught World History and World Geography. He served as the Head Baseball Coach at Springhill High School for 4 years. He received the Coach of the Year in 2009. Griff spent 4 years volunteering at CHCS before taking on the role as the Athletic Director and Head Football Coach in June 2019.
Griff has been married to Jennifer Mauldin for 20 years and they have two sons at CHCS, Jake and Matthew.
"I love the family environment here at Christian Heritage and I love serving our athletes through the lessons that can be learned through competition, including the work it takes to prepare for success."