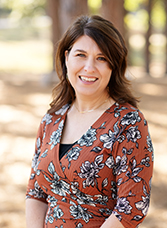 Kelley Moczygemba
Rhetoric Math/Science Instructor
My family and I came to Christian Heritage in 2017, and quickly found ourselves at home. My husband, Josh, and I have been married for 19 years and have four children, all of whom attend Christian Heritage.
I enjoy spending my time reading good books, making things look pretty, and preparing good food, but recently, I have enjoyed spending most of my time at the school watching our children play sports or participate in fine arts events.
The degree I earned from Pensacola Christian College is in Mathematics Education, a field I found myself in due to my love for math and its consistency, beauty, and order.