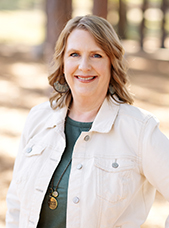 Danielle Young
Foreign Language Curriculum Lead/ Logic Latin Instructor
Danielle has loved school for as long as she can remember. She earned her B.A. in Education at the University of Southwestern Louisiana (now Univ. of Louisiana-Lafayette) and has been teaching in some setting ever since. She feels called to help students know God and prepare to clearly communicate the truth of who he is to the world.
Danielle has been married to Glenn for 28 years. Together they have raised 3 children: Savannah(25), Micah(21), and Joshua(19), and now find themselves on the brink of an empty nest adventure.
She is passionate about bringing clean water and the gospel to the people of Honduras and has been involved in ongoing ministry there since 2016. Danielle loves spending time with family, enjoying Tex-Mex food, and winning at board games.