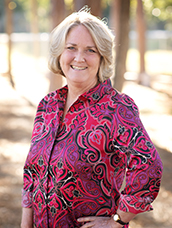 Kim Holcomb
K4 Instructor
Kim's parents were missionaries in East Africa, and she was born and raised on the mission field. She lived in Kenya until she was eighteen years old, and was extremely blessed to be raised in a godly, discipleship-oriented family.
Kim and her husband Chris have lived in the East Texas area for thirty-five years. They met and married in Fayetteville, AR when Kim was a sophomore. After marriage, Kim completed her degree in secondary education at the University of Texas at Tyler. She later earned a certification in elementary education. She has taught Pre-K and Kindergarten for eighteen years. Kim and Chirs have been married for thirty-six years. Together they have four grown children, Matthew, Elyssa, Rebekah, and Michelle, and two and a half grandbabies.
Language has always been a strength for Kim, and after getting her education degree with an English specialization, God carefully developed and oriented her passions in the direction of teaching small children how to read. She is so grateful that over the years she has seen how God designs each individual for a specific purpose, and she feels that working with young children is her calling. She is so grateful to be on the team at CHCS.