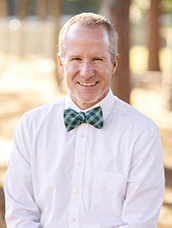 John Rutherford
Logic/Rhetoric Principal/Rhetoric Instructor
John graduated from The University of Texas at Arlington with a B. A. in Philosophy and decided to pursue a master's degree at the perfect time….when his kids were toddlers. He did survive (and so did they!) and completed a Master of Humanities degree from The University of Dallas.
After 20 years of teaching, John enjoys it more now than when he began. The books we read and discuss are the instruments God uses to make us better versions of ourselves and apt ministers in his kingdom.
John has been married to his wife, Jennifer, for 18 years. They have three sons, all of whom attend Christian Heritage. John loves to beat his boys in basketball and nerf wars, play golf and disc golf, read good books, and go on long walks with his wife.