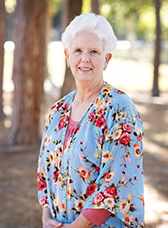 Lois Nowell
1st Grade Instructor
I am so excited to join the staff of Christian Heritage Classical School this year. I look forward to a wonderful year of learning.
I graduated from Longview High School in 1970 and attended Stephen F. Austin University to get my degrees in Elementary Education and Reading. I retired this year after 34 years of teaching in First – Fourth Grade.
My husband, Joe, and I have three daughters: Rachel, 42, who teaches 4th graders at King's Academy in Tyler; Sarah, 38, who is a Renal Dietician currently living in New York City; and Lydia, 34, who teaches 7th Grade Math at Union Grove Junior High. Thanks to Rachel and her husband, I am a grandmother. Anna Grace (10) and Elizabeth (7) Montgomery are my "pride and joy."
Joe and I have been members of Mobberly Baptist Church for the past 24 years. Prior to that we lived in Mount Pleasant and served at First Baptist Church.
I understand and appreciate the value of faith and family. For this reason, I cherish the opportunity to serve at CHCS.