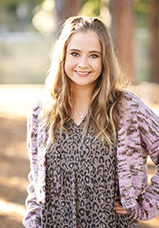 Hannah Pitts
Rhetoric Humanities Instructor
After graduating from Christian Heritage in 2017, Hannah Pitts went to the University of Mary Hardin-Baylor. In 2020, she earned her B.A. in English, Language Arts, and Reading along with a minor in Pedagogy and Professional Practices. Immediately following graduation, she packed up her belongings and moved to Nacogdoches, where she taught 8th grade Language Arts for a year.

In November of 2021, Hannah married Nicholas Pitts, who she met while attending Christian Heritage as a student. Newly married, they both knew they wanted to move back to Longview to be with family. After much prayer, the Lord provided. Being part of the CHCS family again has been the biggest blessing to Hannah, and she desires to foster in her students the same confidence and love for learning her own teachers planted in her.

Some of her favorite hobbies include buying (and reading) lots of books, morning coffee time with her husband, shopping for deals with her mom, and excessively organizing and color-coding just about everything in her life.